We envisage promoting green lifestyles and prioritizing sustainable use of natural resources.
Our objective is to promote sustainable livelihoods with green technology at the local, regional, national, and worldwide levels through research and youth-led initiatives. We influence policymakers' choices and promote the deployment of green technologies such as smart city development, smart energy, green consumption, waste management, and many more. We facilitate the implementation of natural-based solutions to address climate change while also contributing to sustainable development.
ADVANCING SUSTAINABLE LIVELIHOOD
We pattern our works following the sustainable livelihood framework. The SLA models suggest that the capabilities, assets, and activities required for a way of life are referred to as one's livelihood. A livelihood is sustainable when it can cope with and recover from stresses and shocks, as well as maintain or improve its capabilities and assets now and in the future, without compromising the natural resource base."
We focus on climate change adaptation and mitigation implementation in rural and urban poor communities. We are keen on ending all forms of unsustainable livelihood, especially in wetlands-based communities. 
PROMOTING GREEN LIFESTYLES
Did you know that your lifestyle influences climate change? Yes, it does! At Greenovature, we endeavour to educate you on the best lifestyle options that will help you to live a happy life. We embark on homestead sustainable lifestyle practises such as recycling products, reusing bags, designing with plastic, purchasing second-hand products, and giving the used products to charity. We also educate people about using affordable and healthier transport such as walking, skating, and cycling.
INNOVATION FOR SMART CITIES
We stimulate scientific innovation to contribute to the development of urban and peri-urban areas, with a concentration on densely populated areas. Our innovative ideas are bent on urban design and redevelopment research that includes community-based and nature-based approaches. We press toward enhancing the livelihood of urban poor and rural areas with clean techonologies whiles ensuring they are able to adapt, adopt, cope and withstand all forms of future vulnerability. The target redesigning of urban regions to reduce growing trends of urban heat island effects is part of our core mandates to combat climate change. We focus on urban greening and advocate for a circular urban economy. 
NATURE CONSERVATION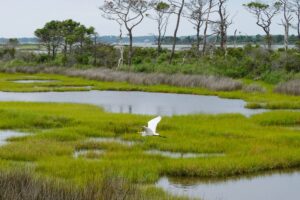 We pursue to advance the conservation of wetlands, marine life, and forest through restoration programs, advocacy, and community-based outreaches. Our goal is to restore deteriorated areas.
A Note
About Our Patron
"Dr. Esther is a Senior Lecturer at the University of Education in Winneba and an accomplished researcher. Dr. Esther is passionate about urban development and slum restoration and also interested in youth-led efforts to improve livelihoods. "
– Mrs. Esther Yeboah Danso-Wiredu